---
---

ToolFreak Finisher Work and Safety Glasses , Clear Lens with UV and Impact Protection , Fog and Scratch Reduction , Neck Cord and Carry Pouch
Are you looking for eye protection that is ...
reliable ?
ultra lightweight?
comfortable ?
super cool ?
perfect for work, sports and activities?
There was a time when all eye protection looked about the same clunky, uncomfortable glasses that slid down your face the second you moved even a little bit
That's why we came up with a different solution - the ToolFreak Finisher safety glasses. Who said being safe meant you couldn't look cool?
REMOVE THE DILEMMA :
Forget about tired red eyes , tiny particles and flying debris harming your eyesight. We've got you covered with our finisher safety glasses ,
you can now cover your eyes with eyewear that offers style and performance with real uv and impact protection
ENHANCED VISION :
Our wraparound krystal clear lenses are developed with the latest performance lens technology that are equipped with LIFETIME GUARANTEED DISTORTION FREE VISION .
Backed with fog and scratch reduction ,making vision precise and ultra clear with a high clarity panoramic view
ENJOY ALL DAY COMFORT WEAR :
The Finisher frame is designed to be a better fit to your face and grip your head ,making them feel ultra lightweight try them on and see for yourself!
EXTREMELY VERSATILE! DARE TO BELIEVE IT?
Our lightweight and compact safety sunglasses are extremely multipurpose and enjoyable to use. Explore there many uses starting today
A perfect partner for work , sports and activity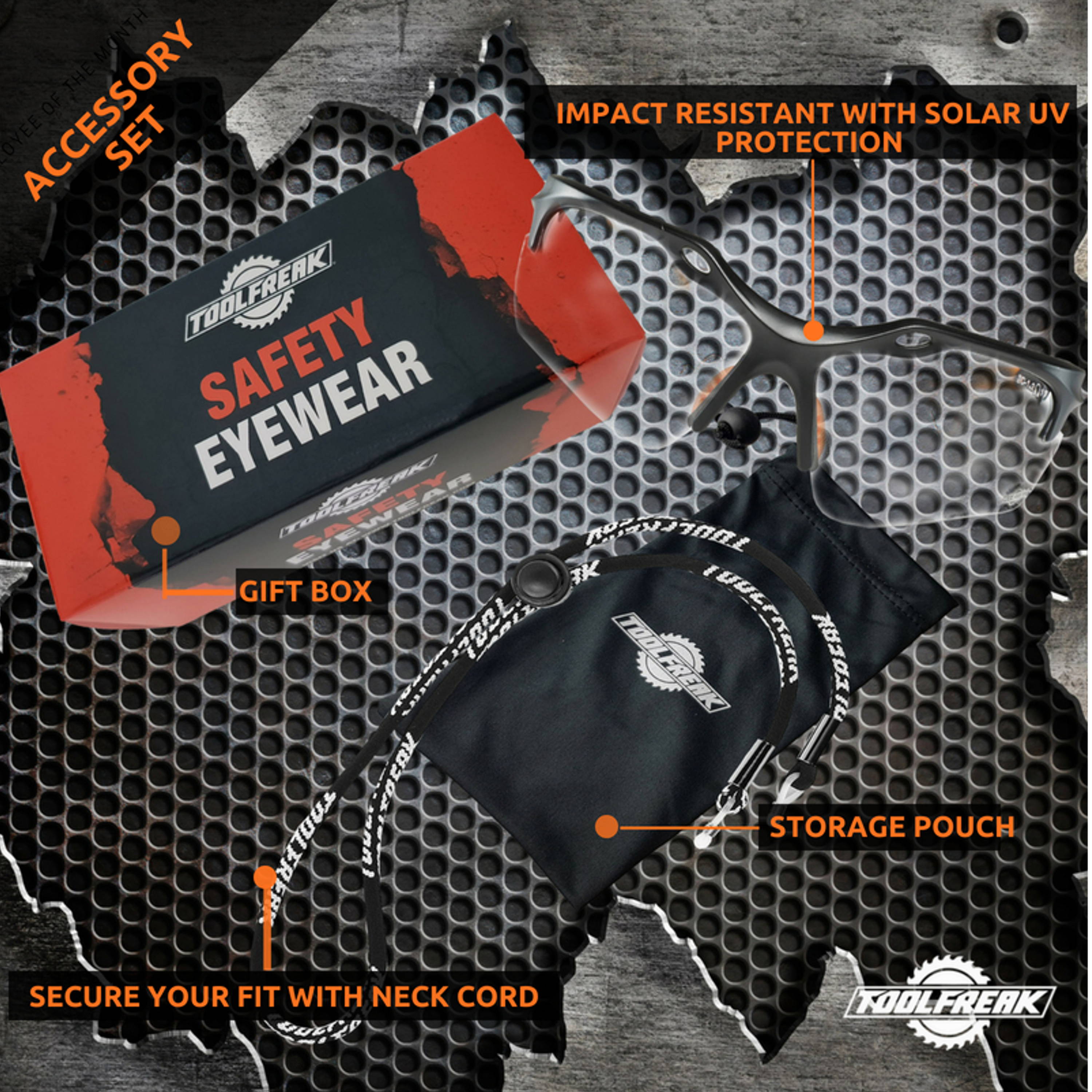 ---
JOIN US ON INSTAGRAM @TOOLFREAKUSUK