---
---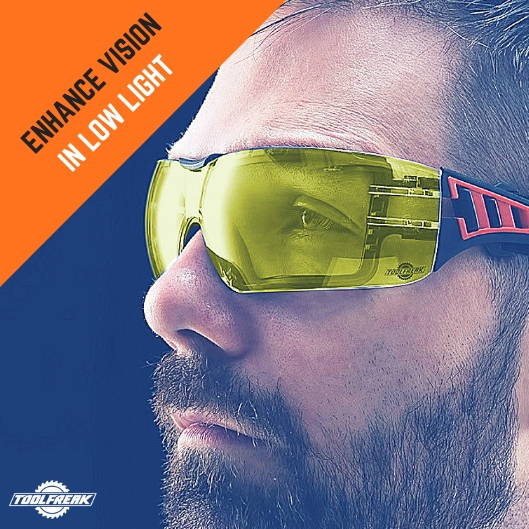 Keep your eyes safe with the ToolFreak-Rip Out wraparound safety glasses !

In need in a pair of safety glasses that are....

...reliable ?
...built for comfort?
...stylish?
...distortion free?
...and really multipurpose?

ToolFreak proudly present the ultimate safety eyewear . The perfect safety glasses to suit you and remove the worry of eye injuries ! We've got you covered

These safety glasses will not only protect your eyesight but you will look cool doing it ! Try them on and see for yourself !
IMPROVE PERFORMANCE IN LOW LIGHT CONDITIONS WITH TOOLFREAK RIP-OUT HD YELLOW LENS : Are your working or taking part in sport? would you like to enhance your vision in hazy and dull light conditions? Our safety glassees will sharpen your vision by filtering out blue light from your field of vision. As blue light creates a hazy aura that is intestified by vapor in the air, our yellow lens safety glasses will remove this dilemna and allow you to see brighter and more clearer.
THE ULTIMATE EYEWEAR THAT CARRYS BETTER PROTECTION : After all we are serious about protecting your eyes right ? ToolFreak Rip-Out safety glasses protect your eyes from flying debris, dust and wind with the wraparound style that features foam padding and adjustable headstrap, so you can forget about your glasses coming loose when you are at your most active .
IMPROVE YOUR VISION AND CLARITY : Designed with your best interests at heart , these safety glasses have an impact resistant frame and lens rated to ANSI Z87+ and EN166FT . No more worries about flimsy eyewear that might fall apart . The distortion free lenses will improve your vision and promote superior viewing clarity .
GUARANTEED SATISFACTION OR YOUR MONEY BACK: When it comes to our protective eyewear, we make a point of using nothing but premium quality materials , as well as state of the art production processes and strict quality control! Our motivation is to provide you with products that you will love . If however you don't feel satisfied with something please get in touch we are happy to help make your experience a positive one!
ToolFreak Rip-Out Yellow Lens Work and Sport Safety Glasses ,
Foam Padded Protective Eyewear that Enhances Vision , Anti Glare , Impact Eye Protection, En166 FT Rated , Fog and Scratch Reduction,
Includes Full Accessory Set with Hard Case & Lens Cloth
---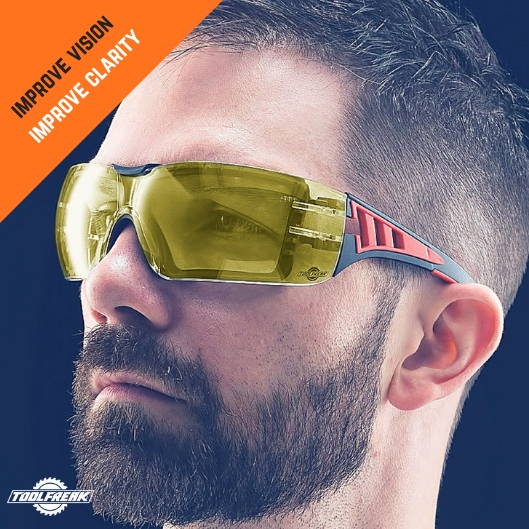 JOIN US ON INSTAGRAM @TOOLFREAKUSUK